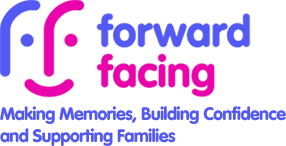 Bluelite is delighted to be sponsoring the 'Child that makes a difference' category of this year's Child of Sussex Awards, taking place on 30th June and presented by More Radio.
As part of the sponsorship package, Bluelite had the opportunity to donate a 20-30 second advert on More Radio to a local charity of their choice. Bluelite's Managing Director, Lorraine Avery, chose Crawley-based Forward Facing charity, recognising the work it does in providing activities and events for families suffering long-term illness and bereavement in the Sussex area.
Forward Facing offers a wide variety of fun and engaging events, including trips to theme parks, theatre tickets, special family day's out, donkey days and their annual Memory Making Day open to all their families. These events provide an opportunity for the whole family to take time away from the stresses that come with caring  for a child who is unwell or facing difficult challenges.
An audio copy of the advert that was broadcast on More Radio is attached and Candice Konig, CEO of Forward Facing commented: "I would like to thank Lorraine from The Bluelite Group for her kind donation of an ad campaign on More Radio. It was great to get some exposure for the charity and reach out to people who had not heard about the work that we do.
"Because of the ad I got a call from a family that had never heard about us and was able to give them the support that they needed within a few days which, without Bluelite's donation, would have never happened."